If you picture a road bike you are probably thinking of sleek, expensive and fast bikes that are ridden by lycra-clad pro's and ridden in famous races like the Tour de France. You might also be thinking that this is not exactly the type of riding you wanted to do, fear not, the once limited options available to you have increased tenfold. The market has divided into subcategories and there are now a variety of 'road' bikes that suit every cyclist needs, a road bike is not simply a road bike these days. 
So, with all these variations and bike jargon, how do you know what road bike is right for you? Below we've listed the many different styles of road bikes now available and what that means for you.
First, here is a quick list on what typically sets road bikes apart from commuting, touring, mountain and hybrid bikes.
A lightweight frame, wheels and components.
A drop (curled) handlebar, though some have a flat bar like a mountain bike.
Narrow wheels and tyres.
A composite (carbon fibre) front fork.
No front or rear suspension.
Men's and women's styles and a wide range of sizes.
The first thing to decide is what type of riding you want to do. Are you aiming to race? Do you want to tour? Will you be seeking out back roads and rough trails? At the end of the day, virtually any road bike can be ridden on any bit of road, but depending on what you want to do most of the time might mean that a particular style of a road bike would be more suitable than another. Let's have a look at a few:
Endurance/Sportive Bikes
Endurance road bikes, otherwise known as sportive bikes, are designed with comfort in mind. The relaxed geometry is aimed at keeping the legs fresh and the posterior pain-free. This makes for a friendlier introduction to road riding if you are new to the activity. Endurance road bikes also tend to be designed to have a little more 'give' in the frame, without sacrificing much efficiency, this 'give' helps absorb the lumps and bumps of the British roads, keeping the vibrations in the bike and out of the bones.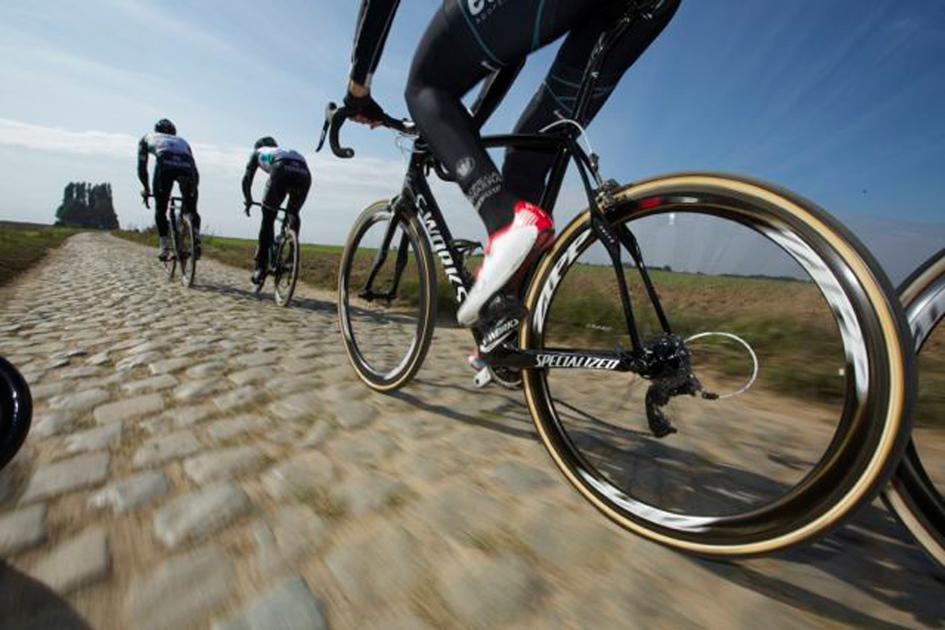 Several features of an endurance bike's geometry should make it comfortable for riding long distance over bumpy terrain. Mainly being a taller head tube and slightly shorter top tube, this means you'll be riding in a more upright position. The less stretched out you are, the less likely you are to suffer from neck and backache.
Comfort, however, is not everything. You still want a bike that can respond and give a fast and exciting ride when you want to put the power through the pedals. You may not be hitting all the KOM's or beating any land speed records, but rest assured, manufacturers will have balanced out comfort and speed capabilities, so you get the best of both worlds.
Performance Bikes
Where the Endurance road bikes are designed for comfort, the Performance road racing bikes are designed for speed, above all else. They are ideal race machines with geometries that allow for more aerodynamic body positions, the most dynamic handling, and punchier accelerations. Praised by professional riders and the most dedicated athletes, these bikes are most at home scaling formidable climbs, hurtling down steep descents, or attacking (this means catching and overtaking, not physically attacking) the group of riders ahead of you.
Performance road bikes will possibly sacrifice some strength for even less weight (making it even less suitable for rough surfaces). On top of this, the geometry may be borderline uncomfortable for people just starting to get into cycling. However, for an experienced rider, this reduction in weight and more aggressive geometry can increase performance. For a rider who does race, or values speed above all else and is willing to put the training in to become better, the Racer is ideal.
Gravel Bikes
In the past year or so there has been a rise in popularity of riding extreme distances over mixed terrain, in races such as the Trans-Continental, for pleasure under the term bike-packing and in the exploits of one Lachlan Morton and co, in Rapha's EF Gone Racing films. This has led to gravel type bikes being designed by the majority of big bike brands to excel in this type of riding, focusing on providing comfort and efficiency over long distances, and versatility.
The riding position is relaxed and features stable handling, while the frame will often feature mounts for various accessories like racks and panniers. The components on these bikes are also designed with more strength in mind and can handle some light off-road riding (single tracks, bridleways and forest tracks) thanks to thicker set tyres. Some riders opt for tubeless set-ups as they offer a number of benefits for gravel riding. The most advantageous being able to run lower pressures without risking pinch flats improving ride comfort and traction.
The biggest advantage of riding a gravel bike is the absolute freedom you have at your toe tips. Suddenly, road sections aren't the same draining drags that they can be on a mountain bike. The off-road sections won't jolt you into the chiropractors waiting room when you do hit the dirt. This new-found freedom will have you pouring over online mapping apps such as Komoot, creating that new perfect route that you'd probably never ride on a mountain bike, definitely wouldn't on a road bike but are perfect for a gravel bike. This bike is ideal for the adventurer, someone who wants to explore roads and everything in between it.
Groupsets
So, you've decided what type of road bikes suits the style of riding you want to do. You're scrolling through the different brands, reading the descriptions and spec sheet and most of it's making sense, except one little thing…the groupset. If the word is alien to you, worry not, a road bike's groupset refers to any mechanical or electronic parts that are involved in braking, changing gear, or the running of the drivetrain. That means the shifters, brake levers, front and rear brake callipers, front and rear derailleurs, crankset, bottom bracket, chain, and cassette.
There are three main manufacturers of groupsets and bike components. Shimano is the largest and best known, while the other two of the "big three" are Campagnolo and SRAM. All three manufacturers offer a range of groupsets at competing for price points.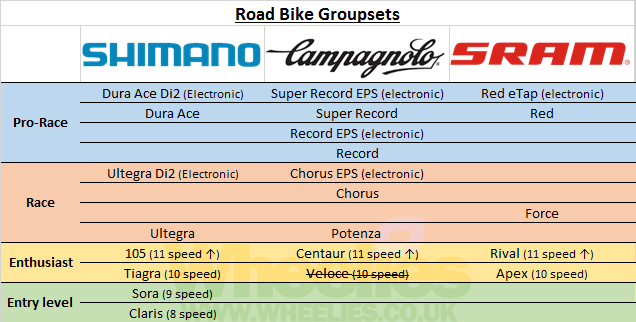 Shimano Road Bike Groupsets
Shimano is synonymous with road cycling, producing and introducing some of the most fundamental technologies in cycling today.
Shimano's road groupsets range from Claris (R2000) as the entry-level road-specific groupset, all the way to the professional Dura-Ace (R9100). The 11-speed options begin with 105 (5800), which offers most of the top-level performance at a more wallet-friendly price point, and even the 10-speed Tiagra (4700) is a solid option for the enthusiast cyclists. For near top performance with a small weight gain is the Ultegra (R8000) groupset, following closely to the recently updated Dura-Ace (R9100), and sharing much in terms of design and technology.
All Shimano groupsets come with their own rim brakes, and from Tiagra upwards, are available with disc brake options. These hydraulic disc brakes provide greater stopping power in any weather conditions (especially wet) compared to rim brakes.
SRAM Road Bike Groupsets
Rather than using two shifter arms for each hand to control the gears, SRAM's DoubleTap® uses a single-arm under the brake lever to shift. To choose a higher gear in the rear, a short push is needed (one tap) is needed, while for a lower gear you need to push the shifter arms further, which actuates the second tap, shifting into a lower gear. This is revered for the front gears.
SRAM offers all but their RED® groupsets in both 1x and 2x variants. This is to cater to hybrid bikes, gravel and adventure, and cyclocross race bikes that prefer a simpler 1x setup. SRAM is the only of the three big groupset manufacturers to offer three different kinds of braking options: cable-operated rim brakes, hydraulic rim brakes and hydraulic disc brakes.
Campagnolo Road Bike Groupsets
Campagnolo road groupsets combine style and performance with a long history of road racing. As Campagnolo is very much a racing focused brand they don't offer a budget level groupset. Rather, they begin in the middle, at the level where riders are looking for race capable components. Campagnolo is a heart over head brand, that has passion running through the core of their components.
All Campagnolo groupsets now come in 2×11 speed setups with the recent reintroduction of their entry-level Centaur groupset. Above Centaur is the Potenza groupset, followed by the Chorus groupset, which offers high-quality materials like titanium and carbon for weight savings, strength and precision performance.